PLEASE NOTE:
Due to the huge influx of patients over the last few years and in trying to accommodate the large number of sick and injured patients we've also been seeing; we are currently scheduling out routine physical exams 2-3 months. Please schedule accordingly.
We apologize for any inconvenience this may cause.
Welcome to the Animal Hospital of Webster
Your Veterinarian in Webster, MA
Call us at 508-943-1704
Welcome to the Animal Hospital of Webster!
If you're looking for a well-trained, caring staff to take care of your furry loved ones and treat them like their own, then look no further! Your pets' health and well-being are very important to us and we take every possible measure to give your animals the care they deserve.
Founded in 2001 by Dr. Diane Quisenberry, the Animal Hospital of Webster is a full-service animal hospital. We are equipped to handle both emergency cases, as well as, pet patients in need of routine medical, surgical and dental care. Our doctors have years of experience both in treating serious conditions and offering regular pet wellness care plans. Beyond first-rate pet care, we strive to make our clinic as comfortable, kid-friendly and calm as we can for both you and our patients.
We are happy to offer a number of resources that enable you to learn about how to take better care of your pets. Please feel free to browse our site, particularly the informational articles. The best veterinary care for animals is ongoing nutrition and problem prevention, so becoming knowledgeable about preventative pet care is essential to the ongoing success of your animal's health.
If you have any questions, don't hesitate to call us on 508-943-1704 and any one of our team members will be happy to help. We look forward to meeting you and your pet soon!
Our hospital is very easy to get to -- just check out the map below!
We also welcome you to subscribe to our newsletter, which is created especially for our clients!
At the Animal Hospital of Webster, we treat your pets like the valued family members they are.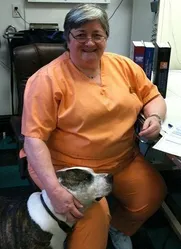 November 3rd, 1946-May 13th, 2022
For all the good you brought, for all the lives you touched,
for the legacy you left behind - we thank you!
Forever in our hearts
Dr. Gina D'Eramo, DVM Dr. Krystal Hall, DVM
Associate Veterinarian Associate Veterinarian

Animal Hospital of Webster
34 Thompson Rd
Wesbter, MA 01570
508-943-1704